New York city is still being terrorized by the vampyres introduced in The Good, the Bad, and the Undead DLC, so Spider-Man is recruiting help from someone with a unique perspective on the problem. Morbius has been attempting to cure his own strain of vampirism in the sewers beneath the city, but his laboratory and the serum he was working on there have been seized by Hydra. Now that the third Marvel's Midnight Suns DLC—The Hunger—is available*, the living vampire is ready to join the Midnight Suns in their fight against the forces of evil.
In addition to introducing Morbius as a playable character, The Hunger DLC adds new story missions. Morbius teams up with Blade, Spider-Man, and other Midnight Suns heroes to deal with NYC's ongoing vampyre problem, as well as the sinister forces working in the shadows to lessen the bloodsuckers' sensitivity to sunlight. To access Morbius' story missions, you must first complete the "Spidermaaaans" story mission and see Spider-Man unmasked in the Abbey during the base game's first act. This will also give you the option to upgrade the Abbey to incorporate Morbius' Laboratory, which can be used to tailor heroes' secondary stats to your playstyle.
Morbius' storyline is separate from the events of the main game, but once you beat the new "Weird Science" mission and he joins the Midnight Suns, you're free to include him when assembling a team for any Tactical Mission. You can also customize Morbius' appearance with options including 3 additional Hero Skins, 7 Abbey Outfits, and 3 Swimsuits.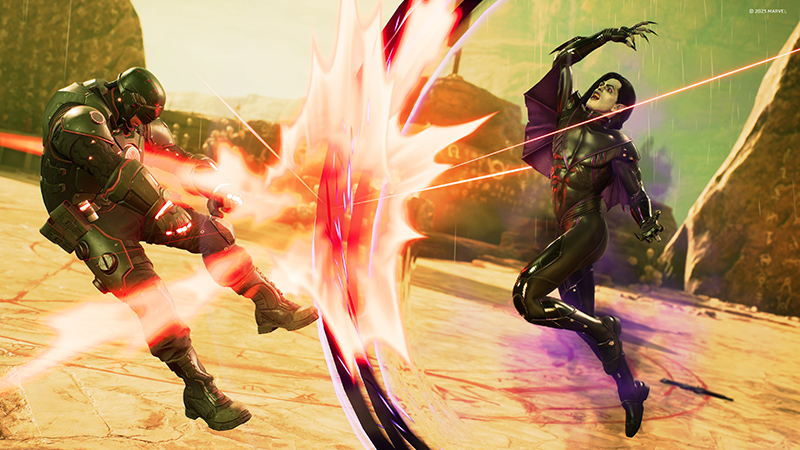 During Tactical Missions, Morbius' vampiric nature manifests as a new Bloodlust card that's added to your hand any time you fill his unique Hunger meter by using his other abilities. Playing the Bloodlust card empowers Morbius by adding a Bleed effect to all of his subsequent damage-dealing abilities for as long as his Block remains above 0. Several of Morbius' abilities are more potent or have additional effects when you use them against Bleeding enemies, so it's good to prevent would-be attackers from knocking him out of his Bloodlust state.
The Hunger, which is now available to purchase separately on PC via Steam and the Epic Games Store, PlayStation 5, and Xbox Series X|S, is the third of four DLC packs included in the Marvel's Midnight Suns Season Pass.
*The Hunger is included with the Legendary Edition of Marvel's Midnight Suns and is included as part of the Marvel's Midnight Suns Season Pass. Also available for individual purchase. Base game required. Morbius content is unlocked via gameplay.