The wait is finally over! Blood Storm, the fourth and final DLC installment included as part of the Marvel's Midnight Suns Season Pass, is now available. In addition to introducing Storm as a playable character, the Blood Storm DLC adds new story missions and, if you have all three of the previous DLC installments, a special bonus mission that concludes the storyline of vampyres terrorizing New York city.
Storm is in New York City hoping to recruit an endangered young mutant to Xavier's School for Gifted Youngsters when, shortly after meeting up with Wolverine and Magik, they're ambushed by bloodsuckers. To access Storm's story missions, you must first complete both the "Spidermaaaans" and "The Best There Is" story missions during the base game's first act. This will also give you the option to upgrade the Abbey to incorporate the new Enhanced T.H.R.E.A.T. Room, which can be used to add modifiers to your training missions in Limbo.
Storm's storyline is separate from the events of the main game, but once you beat the new "Hard Knock Life" mission and she joins the Midnight Suns, you're free to include her when assembling a team for any Tactical Mission. You can also customize Storm's appearance with options including 3 additional Hero Skins, 7 Abbey Outfits, and 2 Swimsuits.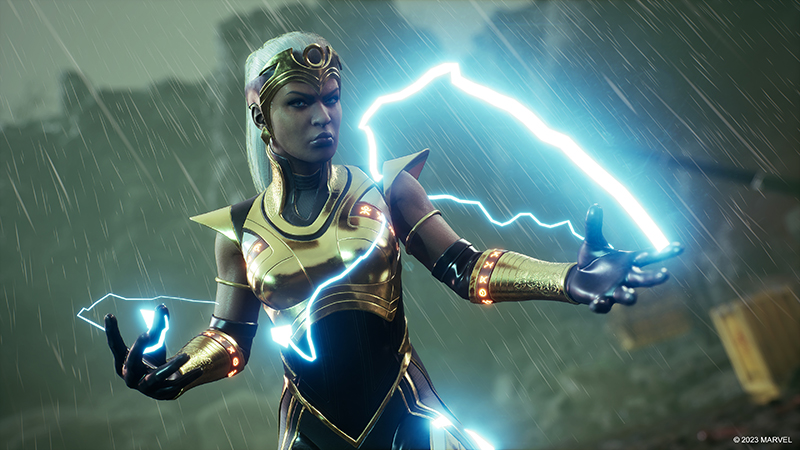 During Tactical Missions, many of Storm's powerful wind- and lightning-based abilities feature a new "Next Turn" keyword that adds extra effects or makes the existing abilities more powerful if you hold onto them for a turn before using them. Chaining attacks hit additional targets, Knockbacks become Forceful, and area-of-effect attacks have a larger radius, for example. As you play with Storm and she becomes more friendly with the Hunter, she also gains an increased chance to Stun enemies when attacking them.
Blood Storm, which is now available to purchase separately on PC via Steam and the Epic Games Store, PlayStation 5, and Xbox Series X|S, is the fourth and final DLC pack included in the Marvel's Midnight Suns Season Pass.
*Blood Storm is included with the Legendary Edition of Marvel's Midnight Suns and is included as part of the Marvel's Midnight Suns Season Pass. Also available for individual purchase. Base game required. Storm content is unlocked via gameplay.