If you've already fought against Fallen Venom in Marvel's Midnight Suns, you know he's a formidable enemy whose relentless attacks can target heroes up close and at range. Abandoned by Lilith following his defeat by the Midnight Suns, Venom has been roaming the sewer tunnels under New York City, feasting on the vampyres introduced in The Good, the Bad, and the Undead DLC to rebuild his strength. Now that the second Marvel's Midnight Suns DLC—Redemption—is available*, you can harness that strength by adding Venom to your roster.
In addition to introducing Venom as a playable character, the Redemption DLC adds new story missions in which Hunter and Spider-Man team up with Venom to tackle NYC's burgeoning vampyre infestation. To access Venom's story missions, you must first defeat Fallen Venom and complete the subsequent "Shattering Expectations" mission. This will also give you the option to upgrade the Abbey to incorporate Venom host Eddie Brock's Whisper Web, which can be used to add modifiers to missions.
Venom's storyline is separate from the events of the main game, but once you beat the new "The Devil's Due" mission and he joins the Midnight Suns, you're free to include him when assembling a team for any Tactical Mission. You can also customize Venom's appearance with an additional Hero Skin, and Eddie Brock's appearance with a selection of 7 Abbey Outfits and 2 Swimsuits.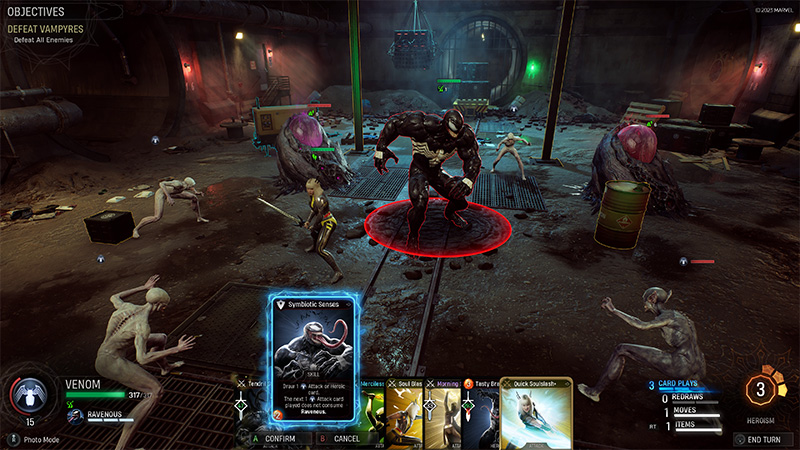 A relentless attacker, Venom's insatiable hunger generates a stack of his unique "Ravenous" resource at the start of each turn, making his attacks and heroic abilities significantly more powerful. Most of Venom's abilities consume a stack of Ravenous when you use them, so it might behoove you to wait until you have the maximum three stacks before unleashing his most potent attacks.
Redemption, which is now available to purchase separately on PC via Steam and the Epic Games Store, PlayStation 5, and Xbox Series X|S, is the second of four DLC packs included in the Marvel's Midnight Suns Season Pass.
*Redemption is included with the Legendary Edition of Marvel's Midnight Suns and is included as part of the Marvel's Midnight Suns Season Pass. Also available for individual purchase. Base game required.Venom content is unlocked via gameplay.