Determined to find a cure for his vampirism and help the Midnight Suns any way he can, Morbius sets up a laboratory inside the Abbey in order to continue his research after joining the team. Nestled amongst the workbenches and artifacts found in the Forge area, Morbius' modest setup lets you optimize heroes to suit your playstyle by making permanent changes to their secondary stats.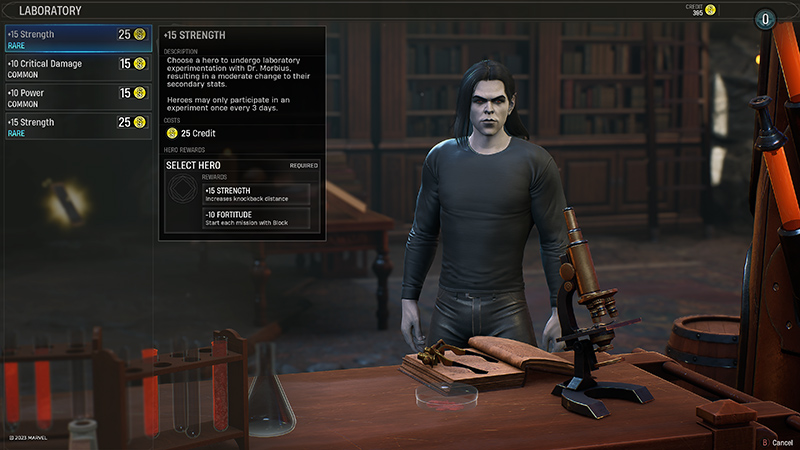 Once you've upgraded the Abbey to incorporate the laboratory, you can spend credits earned via gameplay to purchase permanent stat modifications that can be applied to any hero. A maximum of four stat modifications will be available at any time, each with the caveat that increasing one secondary stat comes at the expense of another. A modification that bestows +12 Resilience might also result in -7 Strength, for example. The selection of available modifications refreshes regularly, and if you upgrade the laboratory that selection will be larger and include modifications of Epic and Legendary quality.
This Abbey upgrade is part of "The Hunger" DLC, which also adds Morbius to the Midnight Suns roster. This DLC can be purchased individually or as part of the Marvel's Midnight Suns Season Pass (a copy of Marvel's Midnight Suns is also required to play). Morbius content is unlocked via gameplay.